Our web site features bios, soundfiles, updated tour dates, web links, videos and reviews for the exciting and diverse COMPANY OF HEAVEN NYC roster.
You are listening to: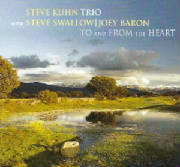 Steve Kuhn Trio "Pure Imagination"

From the new CD "To and From the Heart" to be released on Sunnyside Records.
Band on tour in Europe now!!